///Soliton
installation in public space Middelburg(NL)
Facade2012 17/8-18/11 /2012
participating artists: Thorsten Brinkmann (D), Tobias Rehberger(D), Filip Dujardin(B), Daan Roosegaarde, George Rousse(F), Krijn de Koning, Tadashi Kawamata(J),Tamara Dees, Karin van Dam, Marinus Boezem, Joost van den Toorn, Sarah & Charles(B), Renato Nicolodi(B) en Olaf Holzapfel(D)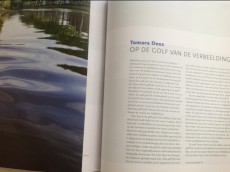 Text about this work by Frits de Coninck for the catalogue (in dutch).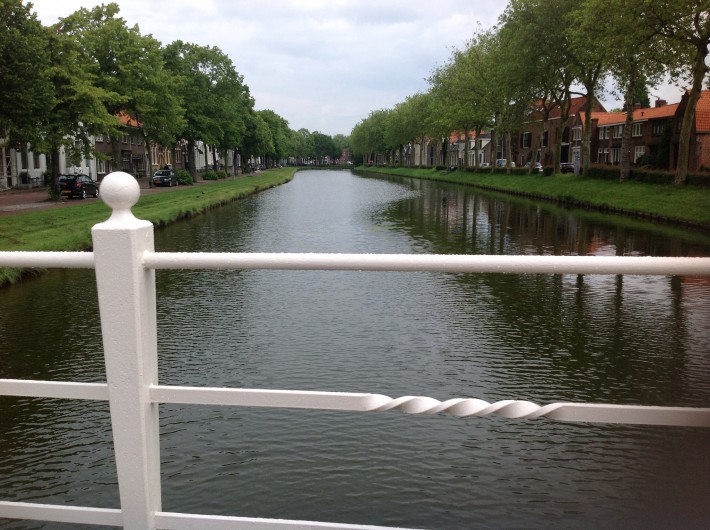 Herengracht Middelburg
Soliton is a wave that appears approximately once every 5 minutes. It starts under a bridge and moves in the direction of the dead end of the canal. Over twohundred years ago the canal was leading to the Molenwater, a round-shaped basin close to the centre of the town where the ships could load and unload before turning back into the canal and sail to the sea. A passing ship leaves waves as traces of its track. The wave of the Herengracht becomes an echo of the past.
Façade 2012 was a temporary art route through Middelburg, with fourteen interferences in the cityscape by internationally renowned artists. These installations which are engrafted onto architecture fit into a side programme that examines the question how the case of Middelburg is exemplary for the Dutch city of the 21st century. Central to the Façade art event is the concept of authenticity. Other themes will include the 'makeability of the city', 'big (useless) works' and 'city branding'. The installations make you think about what you see and about the role of (façade) architecture in city branding as an experience economy.