///maas
installation in public space
Curated by Jef Roeselers
Participating artists: Pi Backus, Rachel Bacon, Rudy Beerens, Jan Carlier, Tamara Dees, Mathieu Knippenbergh, Michael Kramer, Yiyi de la Mota, Lucas Pellens & Stefan Custers and Han Rameckers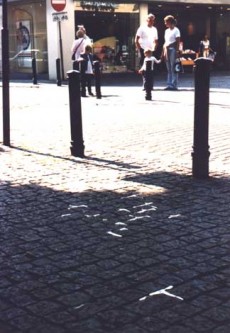 Part of the installation at Munsterplein.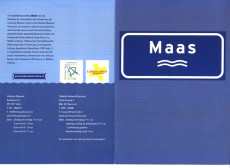 invitation MAAS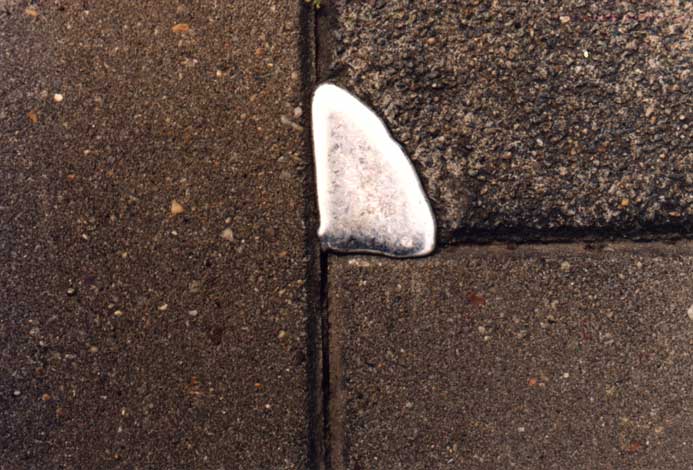 detail of a drop at the Roerkade in Roermond
For the exhibition in the town of Roermond MAAS I designed a third river flow from a high point in the town downwards to the banks of the river Roer and the river Maas. The Stedelijk Museum Roermond where work by the same artist was shown was the starting point of the exhibition. When I discovered that this was the highest point in the route I decided to make traces of water starting from the stairs of the museum . Research showed that I could pour tin puddles shimmering in the sun. At about 25 locations spread over two kilometers are sometimes one drop and sometimes a complete stream to see between the pavement. In the Stedelijk Museum Roermond, I have shown the video 'I Think I am a sailor', a silent story about the love for sailing. Together with this exhibition is a book published with a text on my work by Ad Himmelreich (MAAS, published by the Limburgs Museum, ISBN 90-73363-17-9).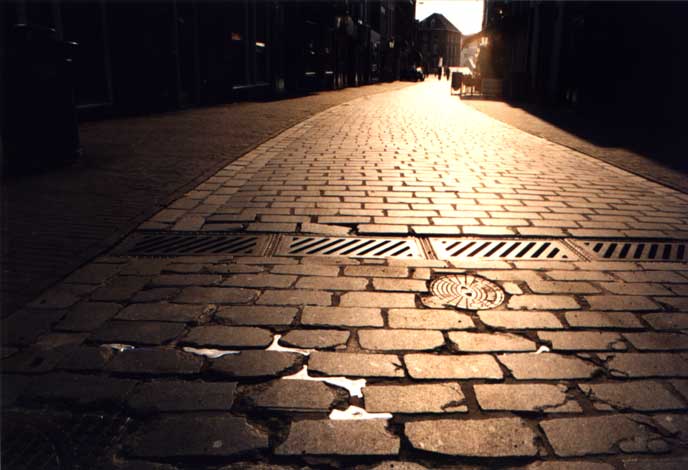 Brugstraat, Roermond